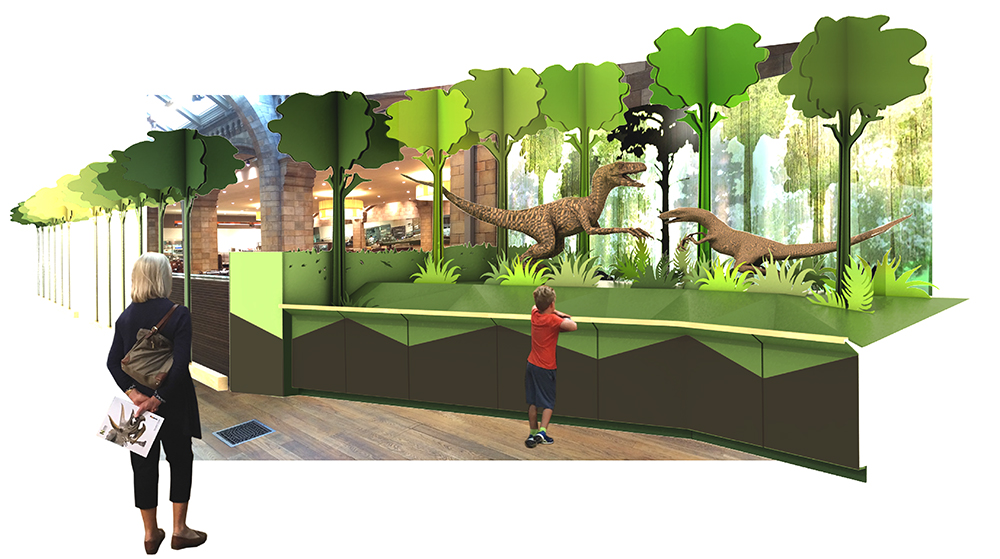 Photo Credit: Natural History Museum
The brief called for a new vibrant dinosaur-themed restaurant environment featuring playful graphics and 3D props. Being in a Grade I Listed Building, the design proposals are visually dynamic, yet sensitive to the Museum fabric heritage. One's first encounter is with two animatronic dinosaurs located on a bespoke plinth by the restaurant entrance. As the customers walk further down to be seated they are immersed into a narrative forest-like environment created by the interface between an array of large trees and dynamic mirror graphics. The project embraces digital fabrication techniques – the trees are made of CNC-cut birch ply with digitally printed colour gradients. The reflections of the props into the mirrors make up for an interactive relationship with the audience, where T-Rex dinosaurs appear to be coming out of the walls. The play between colour, perspectival illusion, 2D and 3D abstract imagery and sound create a lively and dynamic spatial experience worth enjoying with food.

ALEKSA studio collaborated with EP – Business in Hospitality and Artisan Collective and worked closely with the Museum on the delivery of the project.

London, UK 2016
Client: The Natural History Museum
Project Status: Completed
Budget: Confidential
Photo Credit: Natural History Museum
Photo Credit: Natural History Museum
Photo Credit: Natural History Museum
Photo Credit: Natural History Museum
Photo Credit: Natural History Museum
Photo Credit: Natural History Museum
Photo Credit: Natural History Museum
Photo Credit: Natural History Museum
Photo Credit: Natural History Museum